Cat Eye Problems
"Cat eye problems cause symptoms such as redness, discharge and inflammation. Treatment includes medicated eye drops for bacterial infection and/or an eye wash."
Cat eye problems have several causes. If your cat's eyes appear red or inflamed, if she has unusual drainage from her eyes (some moisture in the eyes is normal and healthy; you will know what is normal for your pet), or if she seems to be having trouble seeing or to be especially sensitive to the light, see your veterinarian for a diagnosis.
Links to Information on Cat Eye Problems
General Eye Health and Eye Exams


Natural Medicine for Cat Eyes
Cat Eye Diseases and Condition
Bacterial Cat Eye Infection
Feline Calicivirus
Cat Cataracts
Chlamydia
Chlamydiosis
Conjunctivitis
Cat Dry Eye
Cryptococcosis
Cat Eye Injury
Feline Immunodeficiency Virus (FIV)
Feline Leukaemia Complex
Feline Infectious Peritonitis (FIP)
Fungal Cat Eye Infection
Feline Glaucoma
Feline Herpesvirus
Feline Keratitis (KCS)
Cat Pink Eye
Panleukopenia (Feline Parvovirus, FPV)
Viral Cat Eye Infection
Protozoal Infections
Toxoplasmosis
Cat Uveitis
Vision Loss and Feline Eye Disease

Cat Eye Diagram
Refer to this cat eye diagram to understand which part of the eye is being effected by the different cat eye viral and bacterial infections.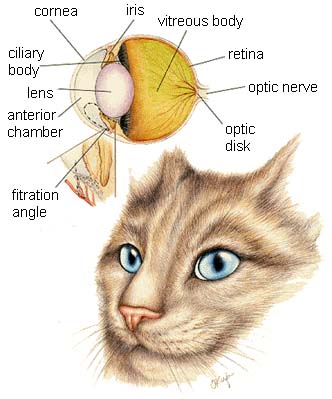 Common Cat Eye Problems
Cat eye infections
may become chronic if not treated and can cause permanent damage if neglected.
If you expect allergies or something in the environment are the cause of your cat eye problems, you can try an over the counter saline solution as an eye wash. If you see no improvement after 2 days then see your veterinarian.
Cat Conjunctivitis (cat pink eye)
Cat conjunctivitis or
cat pink eye
is the most common cat eye problem. It is an inflammation of the membrane covering the inside of the eyelids and the front of the eye, also called the mucous membranes of the eye. It often just affects one eye, although it can affect both. The eye becomes red and inflamed. There may be clear or mucous discharge from the eye. It is usually caused by viruses or bacteria. Less often, it may be caused by parasites or by allergies.
Feline conjunctivitis does not cause a change in vision. Pain is not associated with the disease and redness is moderate to minor. A common primary cause of cat conjunctivitis is chronic irritation and/or exposure resulting from anatomical problems of the lids (entropion, ectropion) or eyelashes (distichia, trichiasis). Irritation may also result from exposure to chemicals, wind and dust.
Treatment for Cat Conjunctivitis
Conjunctivitis is usually treated with medicated (antibiotic) eye drops. These are administered several times a day. In addition, the cause of the conjunctivitis must be treated. This may mean oral antibiotics will be prescribed, or allergy medication given.
An approach you can try at home is to clean the discharge from your cat's eyelids. Wet a soft, clean cloth or cotton ball with lukewarm water, squeeze it out and gently wipe away the discharge from around each eye that is affected. Repeat twice a day or as often as needed.
You can also try a scrub such as an over the counter eye scrub such as Eye Clear from PetMeds. Eye scrubs help keep the lids clean. They are pH-balanced and may cause less stinging than water.
You'll also want to wash the surface of the eye. A good way to do this is with artificial tears, which can help wash away particles that may be causing the problem,
Apply a compress. Covering your cat's eyes with a damp, warm compress can be soothing. Apply for 5 minutes. Rinse the cloth first is applying to more than one eye.
Grooming can help prevent eye irritations by keeping hair out of the eye. Hair around the corners of the eye can cause canine conjunctivitis. Brushing the hair away from the eyes can help.
Feline Glaucoma
The most noticeable symptom of glaucoma is a reduced capacity to see. In feline glaucoma cases the globe of the eye may be enlarged (buphthalmous) or sunken (enophthalmic) causing the third eyelid to stick out a bit. Bad cases of glaucoma cause pain that could also result in behavioral change.
Treatment for Feline Glaucoma
There are five classes of drugs that are use in the suppression of IOP levels. the cause of feline glaucoma.
- aqueous formation suppressors- miotics- uveoscleral outflow enchancers- hyperosmotic agents- neuroprotection agents
Common drugs include Methazolamide (for corneal pressure), Timolol Opth Soln, Trusopt Ophthalmic Solution (for pressure) and Pilocarpine 2% Ophthalmic Solution.
If drugs cannot reduce IOP levels in feline glaucoma then surgery may be called for.
Feline Herpesvirus 1
Although most cats are vaccinated for this virus as kittens, it is still possible that the vaccination didn't take hold or booster shots where not administered in the 1 to 3 year interval recommended. This virus effects the eyes, nose and throat and could result in bacterial infections.
Feline Herpesvirus Treatment
Feline herpesvirus treatment
includes prescription eye drops to address any resulting eye infections. If your cat is refusing to eat for a period of 3 days due to nasal congestion (cats only eat what they can smell), then feeding through a tube may be required.
Cat Eye Infection Keratoconjunctivitis sicca (Dry Eye)
Keratoconjunctivitis sicca is a condition in which there is inadequate production of tears in the eye. The eyes are too dry and the corneas can be damaged. There is also the risk of ulcers (sores) on the eye. In some cases, this is a chronic infection, requiring long-term treatment.
Treatment for Keratoconjunctivitis sicca
Keratoconjunctivitis sicca is treated with artificial tears (eye drops that are formulated to resemble the composition of natural tears), tear stimulants, and anti-inflammatory eye drops. Oral anti-inflammatory medications may also be prescribed.
Uveitis Cat Eye Infection
Uveitis is an inflammation of the interior of the eye. Symptoms include redness of the eye, sensitivity to light (photophobia), blurred vision, and eye pain. Blindness can occur if it is not treated.
Causes include infectious disease, including viral, bacterial, fungal, protozoal and rickettsial.
Uveitis Treatment for Cat Eye Infection
Uveitis is treated with glucocorticoid steroid eye drops, such as betamethasone, dexamethasone, or prednisolone. Oral steroids, such as prednisone, may also be prescribed.
Natural Treatment for Cat Eye Problems
After checking with your veterinarian, natural approaches to treatment contain herbal tincture and can effectively treat and prevent eye infections in cats as well as improve general eye and visual health.
Common ingredients in homeopathic eye home remedies include:
* Arctium lappa (Burdock) - cleansing and eliminating herb and is excellent at detoxifying the tissues and removing unwanted substances from the body.
* Rosmarinus officinalis (Rosemary) - is well-known as a topical antiseptic/disinfectant, pain-relieving herb with anti-inflammatory effects.
* Chelidonium majus - is used to boost the immune system, combat infections, sharpen sight, promote healing and act as an analgesic (pain killer).
* Filipendula ulmaria (Meadowsweet) - has astringent, antiseptic and anti-inflammatory properties and is excellent for soothing and healing infections of the eyes and conjunctiva.
Pet Alive Eye-Heal combines all of these ingredients and is made expressly for the natural treatment of cat eye problems such as bacterial conjunctivitis and feline eye infection. Check with your veterinarian so that they can monitor progress.
Sources for Cat Eye Problems
Ron Ofri, DVM, PhD, DECVO
Koret School of Veterinary Medicine
Hebrew University of Jerusalem
Glaucoma Is Effective Treatment a Reality?
Peter Bedford United Kingdom

www.animaleyecare.net