Tips for Healthy Kitten Care
"Cat health starts with a Kitten care plan. You've done it; fallen in love with a little ball of fluff and that sweet face. It's exciting, wonderful and yet frightening at the same time. Do you know anything about kitten care? What do you feed your kitten? What vet care does your kitten needs? What do you need for your new friend? There are sometimes more questions than answers and you just want to make sure you get things "right" for your buddy. No worries. Common sense and a few tips will help you on your way."
Newborn Kitten Care
The key to newborn kitten care is to watch your kittens carefully for unusual signs of trouble. A newborn kitten in firm and round and like to nurse. They should try and nurse on your finger if placed into their mouth.
Kittens will sleep for 2 days after being born, with the head curled into the chest. The skin is pink in color and warm. If you pick up the newborn it should move around and then when returned, move back to the mother. If you notice that the kitten is crying, it is probably cold. Kitten crying is not a normal behavior and should be of concern.
Cold is one of the biggest threats to successful newborn kitten care. The area where the kittens are kept should be 85F (29.4C) to 90F (32.2C). At 6 weeks, the temperature can be kept at 70 (lower it gradually from the time the kitten is born). If you believe a kitten is cold, use your body warmth to warm it up (avoid a heat lamp).
Kittens need to nurse from a mother or with feline milk within 24 hours of being born. The kitten must gain wait over the first 7 days or there is cause for concern.
Weaning Kittens
After 25 days, kittens can be weaned. Select a food that indicates it is formulated for kittens that are 3 to 4 weeks or older. See our kitten care food guidelines below for choosing a kitten feed. and how to provide both dry and canned food. Each type of kitten food needs to be mixed with water or kitten milk (dry is 1 part kibble to 3 parts water/kitten milk, canned is 2 parts canned to 1 part water). Transition gradually until dilution is not needed, which is at 7 weeks of age.
Over feeding can result in kitten diarrhea. If this occurs reduce the amount of kitten food provided.
Bringing Home a Healthy Kitten
If you are planning on bringing home a new kitten, try and select one that is about 12 weeks old. This leaves enough time for the kitten to be socialized with other cats. A kitten should be eager for your attention, relaxed when picked up and purr when stroked. If the kitten does not respond well, it may not have been socialized properly by the mother.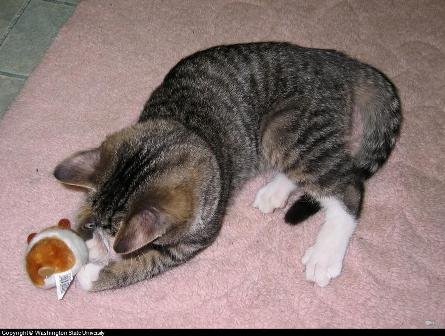 Kitten Care includes Keeping a Cat Active and at Play
Inquire regarding the kitten's diet and don't change it after bringing your kitten home for the first several days. When making a change do it gradually by mixing old and new foods. For example, start with 75% old, 25% new, then go to 50%/50%, then 75% new/25% old until you reach 100% new food. You can do this over several days, there is no rush.
Signs of a Healthy Kitten
There are several telltale signs that will help you select or confirm that you have a healthy kitten. This includes:
Nose that is damp and cool
Eyes that are bright and clear, not cross eyed (cross eyed cat could have congenital issues)
No discharge in the eyes, nose and ears. Discharge or tears can indicate some type of kitten respiratory or kitten ear problem. Black discharge in the ears can indicate a kitten ear mite problem.
Check the coat and make sure that it is fluffy
Check the anus (rear) and make sure it is clear and healthy looking
Check the kitten weight. A kitten that is 10 weeks old should weigh 2 pounds.
Ready for play. If you put some string near the kitten (hold it up) or move your hands, the kitten should respond and want to play. If a cat does not want to play or appears tired, there may be issues that requires veterinary kitten care.
The first thing to do for kitten care:
The first thing is to choose a name, one that reflects the kitten's personality. Chances are, within a day or two, you will get a good sense of a moniker that suits your new pet. While you may think a name isn't important, animals do respond to a one and it provides them with an identity. They are living, breathing, sentient beings and having no name just doesn't work when you want to get to know and love them.
Name chosen, you head to the vet for a new kitten care check-up. You will want to make sure everything is in good working order and get your new friend their first set of shots to boost their immunity. (see below for a vaccine schedule and tips)
Ideally, you will have kitten proofed your home before little wee arrives, but if not, do that quickly, as curiosity is truly the kitten's middle name. Not sure how to kitten proof? Think child proof and you're on the right track. (see below for tips)
Be prepared to be running around after the kitten for the first little while, as they are into everything. It's a whole new world out there and they want to get right into it and find out what's what. A kitten's world (and cat's) is horizontal. If you don't find them on the floor, look up – on the fridge, the closet, the cupboards, your window sills or your counters. You get the idea. Kitten's can be just about anywhere, hence, learning the "kitten shuffle" will save you from stepping on little toes and paws.
The kitten shuffle is when you don't pick up your feet and walk like normal. Instead, you slide along the floor, much like you were skating. Many a kitten's paws have been spared the indignities of their human stepping on them using this walking safely method. It's not just the kitten that will learn new things; it's you too and the journey of a lifetime of fun has just begun for the both of you.
Kitten Care Must: Kitten proofing your home:
While we could likely give you an endless list of things to do, the fact is that you may miss some things. That's perfectly alright, as no doubt you will be closely supervising the new arrival until they get settled in, which leads us to mention that having a designated room, just for the kitten, is a good idea. Make sure it has bedding, toys, a scratching post, litter box, food, water and treats.
It's a safe place for your kitten to be until they get used to the sounds in the house, the people, kids and dogs, if you have them. It's a room they will run to for safety and peace and quiet later. A kitten room will also minimize the chance that the cat will want to explore dangerous areas such as the kitchen counter. For example, getting the kitten used to a scratching post, can keep the cat from scratching in other areas of the home.
And now, those kitten care tips:
If you have blinds or curtains with cords or roll up blinds with string, make sure you get the dangly bits up out of the way. It's a lovely temptation to bat and chew the end of the cord, but unfortunately, kittens can manage to strangle themselves with them. If you have screens in your windows, be prepared for the kitten to climb the screen and pull it out of the window, much to their everlasting surprise. Try removing the screens until they mature and avoid the possibility of broken legs.
Try not to leave attractive items such as pens, paper clips, glasses, chains, earrings, rings and other small intriguing objects somewhere a kitten/cat can reach, like the counters, your dresser or desk. Inquisitive paws, noses and mouths will get right into the spirit of the game and often these items hit the floor and get destroyed or eaten. Eaten items mean a vet visit and possible surgery. NOTE: never let your kitten play with string, ribbon, tinsel, rubber bands or dental floss. If they swallow this, they run the risk of getting the material wrapped around an intestine.
Along the same lines as dangling items, dental floss, string, thread, etc., are cords for your computer, TV, phone, fans, toasters, your modem and other things that plug in. Kittens and some older cats, love to chew on these. Get cord management systems for their safety and your peace of mind.
If you have an office at home, you will have things like rubber bands, tacks, flash drives, pencils and general rick rack that we all accumulate on our desks. If you don't want your kitten to eat it, don't leave it on the desk.
While your kitten may not yet know how to open cupboards, chances are they will when they get older. It's almost as inevitable as the sun rising every morning. Use child safety bands on cabinets that have dangerous products in them, such as bleach, pesticides, cleaning supplies and detergent. Ditto on cabinets in the bathroom, because kittens and cats will open doors and drawers to chew on dental floss. They love the smell and taste of the flavored floss.
Other areas of your house to monitor kitty in are the laundry room and the dryer. Always check the dryer BEFORE you start it. Keep them out of the garage. It has far too many poisonous items in it.
If you keep poisons, such as ant traps, rat poison, roach killer or other bug sprays in your house, keep them up and away from inquiring paws and in a cabinet they can't open. If you have bait traps outside, remove them and if you have house plants, do your homework and find out what plants are poisonous for kittens and cats. Better to be safe now, than sorry later.
Check your house plants. The FDA has a list online of poisonous cat plants. And you may also be interested in a list of NON-TOXIC safe cat plants.
Things you need for kitten care:
There are definitely some things you will need to have on hand for taking care of kittens.
For instance your kitten care plan should include:
Cat bed
Right kind of kitten food (see below)
Toys to keep the kitten active and engaged. Consider one of the Kong Catnip toys, which hide some catnip in the kitten toy.
Litter pan
Litter scoop
Litter (do not use clumping litter, as the dust tends to cause respiratory problems. Scented litters tend to cause allergies. Plain Jane litter is good.)
Scratching post (you might also want to invest in some catnip spray or real dried catnip as an incentive to train them to scratch. Having said that, some kittens/cats don't like catnip.)
Toothbrush and toothpaste (yes, they need to brush their teeth too. It must be specially formulated for pets.)
Collar with or without a bell
ID tag
Hair ball paste (Tip: Vaseline works just as well to control hair balls, by dabbing a bit on one paw.)
Ear cleaner (Tip: a 50/50 solution of apple cider vinegar and water used with a cue tip works wonders. Don't probe too deeply or you will nick an ear drum.)
Cat carrier
Flea medication: Consider a natural flea repellent such as the multi-vitamin Flea Away that has your cat give off a scent that repels fleas but cannot be detected by humans.(Tip: natural flea control is strongly recommended, as other products on the market have been known to be chemically toxic).
Kitten Vaccination Schedule:
Kitten vaccination starts between 8 and 10 weeks is a required part of kitten care. The goal is to begin kitten vaccination before losing natural immunity inherited from the mother. The first kitten vaccination is usually the FVRCP (for feline panleukopenia, feline viral rhinotracheitis, and feline calicivirus , which is given at 6 to 8 weeks. Booster shots are then given every 3 to 4 weeks until 16 weeks. Kitten should also be vaccinated for rabies.
| Disease | Core Vaccine | Age at 1st Vaccination (Weeks) | Age at 2nd Vaccination (Weeks) | Revaccination Intervals(Months) |
| --- | --- | --- | --- | --- |
| Calici Virus | YES | 8-10 | 12-16 | 12 |
| Chlamydia | NO | 8-10 | 12-16 | 12 |
| Feline Leukemia | NO | 10 | 12 & 24 | 13-14 |
| FIP | NO | 16 | 19 | Per Vet |
| Panleukopenia | YES | 8-10 | 12-26 | 12 |
| Rabies | YES | 12 | 64 | 12 or 36 |
| Viral rhinotracheitis | YES | 8-10 | 12-16 | 12 |
Tips about shots for kitten care:
It's been our experience with kittens that giving them too many things at once is a recipe for a bad reaction. For instance, if you take your kitten to the vet and have all their shots at the same time and worm them as well, the kitten goes on overload and may run the risk of post-vaccine reaction. It you can possibly space the shots, wormer and other necessary medications out, this is best for the little one.
One further note: the feline leukemia vaccine has been known to have side-effects. So keep an eye on the injection site and monitor their behavior. If you have any concerns, always call your vet. They would rather you called and ask if you have questions.
Kitten Care and Kitten Food
Kittens will establish a preference for certain cat foods prior to 6 months of age, so it is important to set your cat on the right track. They will eat kitten food up to 1 year of age. Select 2 or 3 types of food (dry and canned) and rotate them when feeding your cat. Use a premium commercial kitten food that is labeled for kittens age 3 to 4 weeks or older. Kittens should be fed with other kittens until 6 weeks of age.

Ask what kitten feed was used before you got your new kitten. Continue with this food if you can at first and then gradually move to the type of kitten food you prefer.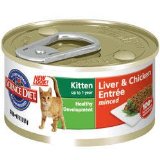 Science Diet Kitten Food
and other foods that are labeled specifically for kittens contain the nutritional requirements growing kittens need
Before they become 7 weeks old, a kitten will gain an ounce a day in weight. Kitten food is needed to fuel their high protein and carbohydrate requirements. Kittens can be fed as much as they eat as they are so active, they burn off any excess calories.
Kitten care involves feeding3 meals per day until 7 months. You can also leave dry food out all day for the kitten if he or she becomes hungry between meals. Kitten food is usually provided until 1 year of age, when a cat moves to an adult diet.
At first, canned food should be fed 2 parts canned to 1 part water or kitten milk replacer. Dry food should be fed 1 part dry food to 3 parts water or kitten milk replacer. Kittens can eat completely dry or canned food about 7 to 8 weeks of age. If you notice a case of diarrhea in kittens, reduce the number of feedings provided as the kitten may be over eating. If using dry food be sure to check the expiration date.

A kitten should not require any additional supplements, except those recommended by your veterinarian. High doses of certain vitamins and supplements can be harmful, so only use as part of a veterinarian recommended kitten care plan.
If you want to give your cat table scraps, limit it to 2 to 3 times per week, after the kitten has eaten the regular diet. Cooked liver, kidney, cottage cheese, vegetables, cooked fish, milk and yogurt are usually preferred by kittens and adult cats.

Kittens that are fed "free choice" meaning they eat when they want, are fed dry food since it does not go bad. Canned food can be left out for about 20 minutes (check manufacturers instructions).
No matter what food you choose, make sure that it is AAFCO certified, the group that sets the standard for commercial kitten foods.
Kitten Behavior
Kitten behavior and training should be part of your kitten care plan. You can teach your kitten to come and respond to its name by using the word "come" and then provide a treat, particularly around meal time. Punishment tends not to work with cats since they associate the punishment to you instead of the cat behavior you are trying to correct.
Scratching is a normal cat behavior. Be sure to introduce a scratching post when bringing the cat home. Provide a treat or reward after the kitten scratches the post.
Spaying Kittens
Spaying kittens (female) or neutering kittens (male) occurs at about 6 months of age or younger. There are medical benefits to spaying kittens including a lower incidence of mammary cancer and behavioral issues associated with a cat being in heat. The benefits of neutering kittens is reduced male cat aggression and the spraying of urine.
With the large number of kittens that need homes, make spaying kittens or neutering part of your kitten care plan.
References for Kitten Care:
Cat Owner's Home Veterinary Handbook
Washington State University College of Veterinary Medicine
Have A Question about Kitten Care or Have a Story That Will Help Others?
Do you have a question or story about taking care of kittens? Share it! We'll pick one question to answer each week.

If possible, please include a picture and include information such as breed, age, sex, medical history, changes in behavior, products used, indoor or outdoor etc.

Sometimes it is difficult to respond quickly. If you have an urgent question we suggest using this online cat veterinary answer service that is available 24 hours a day. You only pay for answers you like.
What Other Visitors Have Asked and Vet Responses
Click below to see contributions from other visitors to this page...


Investingating Discolored Kitten Urine Not rated yet
Reader Question: Cause of Discolored Kitten Urine I was driving to work and I honestly found fugly on the side of the road. She was probably about …