Caring for a Cat Giardia Patient
"Caring for a cat giardia patients starts with an understanding of the disease spreads, which is through cysts found in cat feces. The cysts when ingested turn into parasites which negatively affect the digestive tract, making it difficult for some cats to absorb nutrients. Not all cats show symptoms. In cats that show symptoms, they tend to be mild and include diarrhea, weight loss and soft, foul smelling feces. Cats respond well to prescription medications, although they can have side effects. Natural remedies and supplements can be used to help the cat naturally eliminate parasites and restore digestive health. Use under the advice of a veterinarian. To prevent reinfection of the cat, and infection of other pets and family members, shampoo the cat and wash all dishes and the litter box before treatment begins."
Giardia is a common infection in cats. It is found in 15% of house cats and tends to be seen in younger cats. It is a protozoa that lives in the small intestine. The disease is spread when your cats mouth comes in contact with feces, from contact with other cats, or by drinking from streams. Cysts from the feces can attach themselves to cat hair making it easy for the disease to spread from cat to cat.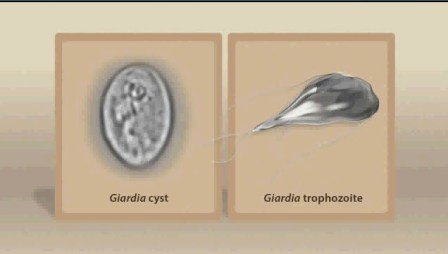 Cat Giardia is caused by giardia cysts which are ingested by the cat. Once they enter the digestive tract, they turn into trophozoite which interfere with digestive system function
Source: Cornell University College of Veterinary Medicine
It is possible for some types of feline giardia to infect people, so be sure to wash your hands if handling an infected cat.
Symptoms of Cat Giardia
In most cases giardia will either cause no symptoms or diarrhea. The complete list of symptoms include:

weight loss
diarrhea
soft feces
feces with foul smell, mucus
feces that appear fatty
Diagnosis of Feline Giardia
Diagnosis is made through stool sample testing, examination under the microscope, tests for proteins in the stool and feces floating techniques. The condition is difficult to diagnosis, with repeated tests often needed. Testing is important in order to reach a differential diagnosis from conditions that have similar symptoms such as feline
coccidiosis.
Treatment of Feline Giardia
Three different drugs are commonly used for treatment:

Fenbendazole: 50 mg/kg SID for 5 days;
Metronidazole: 25 mg/kg BID 5 days; (most common)
Drontal Plus: SID for 3 days.
If metronidazole is prescribed ask your veterinarian about potential side effects such as liver disease and vomiting.
It is important to clean your cat's environment to avoid reinfection. Since the disease is spread from cyst in the feces that can accumulate in your cats hair, be sure to shampoo them thoroughly.

There is a vaccine for giardia, however it is not usually recommended because symptoms of this condition tend to be mild.
You can also supplement your cat's diet with a natural giardia remedy that encourages resistance to parasites and that can help to speed healing, hopefully reducing the amount of time prescription medications are needed. Other helpful homeopathics include Natural Moves, and Digestive Support. Each is formulated to support the digestive system and restore your cat's health. Be sure to consult with your veterinarian so that he or she can monitor progress.
In addition to any prescription medications and natural remedies, your veterinarian may recommend switching to a highly digestible GI diet. Probiotic supplements can also help to restore the digestive system back to the condition before the cat giardia infection started to change system function.
References:
Update on Giardia and Cryptosporidium in Dogs and Cats D.D. Bowman College of Veterinary Medicine, Cornell University, Ithaca, NY, USA.
The Merck/Merial Manual for Pet Health
Have A Question about a Cat Giardia Problem or Have a Story That Will Help Others?
Do you have a question or story about a feline giardia related problem for our veterinarian to answer? Share it! We will answer it for free!

If possible, please include a picture and include information such as breed, age, sex, medical history, changes in behavior, products used, indoor or outdoor etc.

We receive many questions, so it might take a while to respond. If you have an urgent question we suggest using this online cat veterinary answer service that is available 24 hours a day.
Other Visitor Questions and Reader/Vet Suggestions
Click below to see contributions from other visitors to this page...

Cat Giardia Nightmare

We are in the midst of a cat giardia nightmare. We recently rescued two younger cats from a local shelter, a male (TUX..approx/10 months old) and a female …
Cat Will Not Take Giardia Medication Not rated yet
My 15 month old female cat was just diagnosed with Giardia. Vet gave me Panacur Suspension vials to use for treatment. I am 77 with some arthritis in my …
Kitten Giardia Treatment and Resistance Not rated yet
I have a 6 month old kitten and a 4 month old kitten. They have been diagnosed with Giardia. The test came back positive from a swab. My question is …