Cat Paws
"Cat paws and cat pad injuries are commonly seen in veterinary offices. It is important that the pads heal properly in order to act as a cushion on rough surfaces, to provide traction and to allow the cat to lead a pain free life. At minimum, the pad needs to hold the cat's body weight without pain. Causes of typical feline paw or pad injuries include car accidents, frost bite, furniture related problems, door injuries, burning and bites. These injuries are often to the soft tissues and nearby bones. A quick examination of the paw can determine the actual injury . The goal of treatment is to restore and repair as much pad surface as possible."
Causes of Problems with Cat Paws:
The most obvious cause of feline paw issues is an injury to the paw. Indoor cats can get their paws trapped under furniture or in a door. Outdoor cats have these issues, but also can receive cuts or scrapes to their paws from running on pavement or jumping onto a sharp or jagged object. Insect bites and stings can also cause injuries to a cat's paw. Other common occurences are bites from other animals, burns and cat care accidents.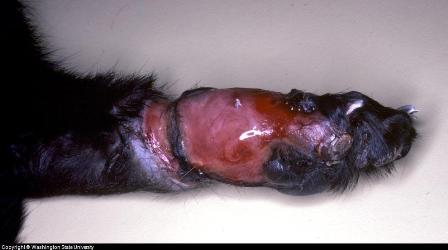 Cat Paw Injury due to rubber band
Source: Washington State University
Signs and Symptoms of Cat Paw Issues:
The most obvious sign that a cat has a paw issue is if he limps or favors the paw. If the cat has an injury to the pad of his paw, he will avoid putting pressure on the paw. He will also lick or bite the paw. Also, if the cat was bitten or stung by an insect, the paw could show signs of inflammation or be discolored.
Diagnosis of Cat Paw Issues:
An examination of the paw will most likely help determine the cause of the problem. If the cat will allow it, gently lift the paw and examine the claws, fur and the pad of the paw. If your cat will not allow you to touch his paw, or there are no visible signs of an injury, a trip to the vet might be necessary.
Treatment of Cat Paw Issues:
Most feline paw issues will resolve themselves in a short period of time. If the cat had a cut that has become infected, your veterinarian might prescribe an antibiotic or painkiller to treat the infection and reduce inflammation. You can also use a topical natural remedy to condition and protect the paws and pads such as PawPaw.
It is important that any breaks in the skin heal properly, so that they paw can function properly and withstand any abrasion from outside or inside surfaces. if the cut in the skin is minor, than normal healing, meaning allowing the skin to reform is the approach used. If a large area of skin is missing, then skin grafts are required. The use of skin grafts in cats usually lead to an excellent result.
There are four cat pads called the carpal, metacarpal, metatarsal or digital) on a cat. The metacarpal or metatarsal oare considered to be more important as these carry most of the weight, so if these are injured, surgery is used to transplant pad skin from other pads to these areas. If a cat lives indoors on cushioned surfaces such as carpet, then non-pad skin (such as skin with hair) might be used to repair a pad.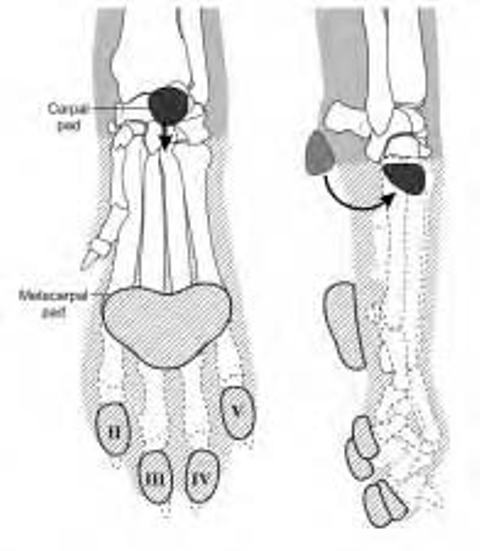 Cat Paws Pads can be moved to restore paws that are critical for carrying the cat's weight and for traction

Source: Ohio State University
If a cat leg and paw are severly injured they might need to be amputated.
What You Can Do At Home: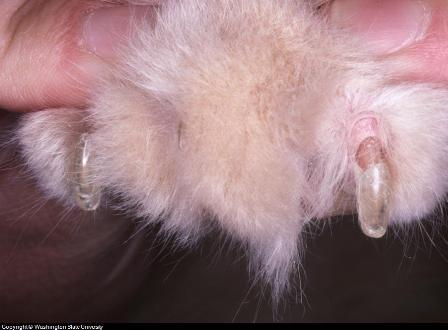 Soft paws for cats are used as an alternative to cat declawing
Source: George Washington University
The best prevention for feline paw issues is to monitor your cat's activities, especially when outdoors. Keep the cat's environment free from objects that can cause injury. If your cat is prone to wandering the neighborhood, it might be best to limit his outdoor activity as much as possible to lower the chances of injury.
References:
Injuries to the distal extermities in cats
Rico Vannini Dr. Med. Vet. DECVS
Bessy's Kleintierklinik, Watt, Switzerland
Reconstruction options for pad/paw injuries
D. Smeak
Professor of Surgery
Ohio State University, Columbus, OHIO
Have A Question about a Cat Paw Problem or Have a Story That Will Help Others?
Do you have a question or story about a cat paw related problem for our veterinarian? Share it and we will answer it for free!

If possible, please include a picture and information such as breed, age, sex, medical history, changes in behavior, products used, medications, diagnosis received, indoor or outdoor etc.

If you do require an immediate response we suggest using this online cat veterinary question service that is available now.
Questions from Other Visitors and Vet Suggestions
Click below to see contributions from other visitors to this page...

Extra Carpal Claw or Pad On My Cat

My one yr old mixed breed male cat has the usual pads & claws, except he also has an extra growth above the carpal pad. It looks like a claw, but is soft …
Material around Each Cat Claw Might be Ringworm

My female cat 5 years old has a problem with her claws. Material forms around each claw with pus in the nail-bed. We have taken her to a specialist in …