Symptoms and Treatment of Cat Rabies
"Kitten or Cat rabies is a viral infection that can infect any mammal. It causes classic nervous system related signs, and once these symptoms are exhibited the disease becomes fatal. The Rabies virus has several strains/types, but there is no known strain that is specific to cats. Cats only transmit the virus as a host, but can still be severely affected. Brain cells of an affected cat need to be examined for confirmation of the disease. There is no treatment for feline rabies; cats exhibiting rabies signs should be euthanized and disposed of with care. Vaccination is the only way to prevent the virus.."
Cause and Transmission of Cat Rabies:
Rabies is caused by a type of virus called the lyssa virus, part of the rhabdoviridae family. The virus is specific for carnivores and rats, but any mammal can become infected. Cats, being a mammal, can easily be infected or while acting as a host. There is no specific strain or type of rabies virus known for cats and no "cat-to-cat" viral transmission has been noted. Cats usually get infected from other infected mammals and act as a carrier.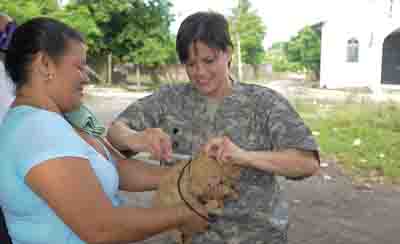 A Cat Rabies Vaccination as is the case with this kitten is the only way to protect a pet against the virus.
Source: 807th Medical Command (Deployment Support) from Salt Lake City (Fort Douglas), UT, United States of America
The cat rabies virus occurs in the saliva of the host/infected animal and is transmitted when an infected animal bites the feline. The virus exists for weeks to months in a bitten cat until the signs appear. Even though there is no specific strain/type of rabies for cats, in the United States reported cases of feline rabies have outnumbered those in dogs.
Signs & Symptoms of Cat Rabies:
Once a cat is bitten by a rabid animal, the virus slowly travels along with the nerves and reaches the brain. The virus starts to replicate in the brain cells before any clinical signs appear.
Signs and symptoms are classically related to the nervous system and appear in phases. These clinical phases include the prodromal, excitative and the dumb phase.
Prodromal Stage

: In the prodromal stage, a rabid cat exhibits signs of anxiety, fever, nervousness and anorexia (loss of appetite). Pets usually behave opposite to the way it normally behaves, i.e. an aggressive cat may act affectionate and docile while friendly animals usually become shy, seek solitude and becomes restless. Fever, anorexia and prominent anxiety are common signs for any behavior.

Excitative or Furious Stage

: The Furious stage is the classical phase, especially for cats. In this stage, a cat will exhibit pure nervous system related signs, such as severe aggressiveness, and a hyper response to visual and auditory stimulus. A rabid cat aggressively uses its teeth, and claws to respond even to a slight provocation. Such cats should be immediately isolated in a secure enclosure. Each stage proceeds with the appearance of seizures and a lack of coordination.

Dumb Stage

: The Dumb stage is also called the paralytic phase, where the rabid cat becomes partially to completely paralyzed. There is severe muscular in-coordination and saliva drools out of the jaw due to an inability to swallow. A rabid cat may bite if examined with bare hands and if not properly secured, even if the animal is partially paralyzed. Due to progressive paralysis and respiratory stress, death may occur in a few hours to a day.
Diagnosis of Cat Rabies:
Clinical signs are commonly used to identify cat rabies. A history of biting or straying followed by signs of shyness, anxiety, fever and anorexia should be seriously considered by a veterinarian. Even then, it is possible that cat rabies is confused with several other conditions which show similar signs, such as fever, anorexia and anxiety are very common signs to confirm any disease.
In the laboratory, brain cells of a cat that is suspected to have rabies can be cultured and the virus can be isolated for confirmation. There are some newer techniques, such as blood sampling and salivary examinations, but still these are not commonly used.
Treatment of Cat Rabies:
There is no treatment for cat rabies; a cat confirmed or even highly suspected for feline should be properly euthanized and the corpse disposed of with care. Only a qualified professional should perform this procedure. Some cats have been reported to survive after early diagnosis and critical care, but that is rare.
If a cat is suspected to have rabies, the pet should be carefully examined and according to the level of suspicion of exposure, such cat should also be immediately euthanized. If the owner is not willing to do so, these cats should be isolated with no animal/human contact for at least 6 months and should be vaccinated 1 month prior to release.
Prophylaxis/Rabies Vaccination:
It is mandatory to vaccinate cats for rabies at an early age. Unfortunately, only 10 – 15% of domesticated cats are vaccinated against rabies. A cat should be vaccinated at the age of 3 – 4 months. The vaccination is repeated after a year. Vaccines are available that are either administered on an annual or every three-year basis. We recommend three-year rabies vaccination since this approach is proven to be very effective.
References:
The Merck Manual for Pet Health
Have A Question about Kitten Care or Have a Story That Will Help Others?
Do you have a question or story about taking care of kittens? Share it! We'll pick one question to answer each week.

If possible, please include a picture and include information such as breed, age, sex, medical history, changes in behavior, products used, indoor or outdoor etc.

Sometimes it is difficult to respond quickly. If you have an urgent question we suggest using this online cat veterinary answer service that is available 24 hours a day. You only pay for answers you like.