Feline Urinary Syndrome
"Feline urinary syndrome which is now known as feline urinary tract disease (FLUTD) is a condition that involves inflammation of the bladder. Other names for this condition include Feline Urologic Syndrome (FUS) and cystitis. Many diseases can cause this condition depending on the age of your cat. Common causes of FLUTD in cats under 10 is a bladder stone. In cats over 10 the most common cause is a cat urinary tract infection. Treatment depends on the underlying cause."
Feline urinary syndrome is not a specific disease but a group of symptoms that occur secondary to irritation, inflammation, and/or blockage or the lower urinary tract (the urethra and/or bladder). It is much more common in male cats than in females and is the most common problem of the lower urinary tract.
Once treated this disease tends to occur again over 50% of the time. It is not usually caused by bacteria like a feline urinary infection.
It's most common cause when a cause can be identified is some type of bladder stone blocking the urethra. These stones which are technically called calcium oxalate uroliths are believe to be formed in reaction to commercial diets.

Feline Urinary Syndrome Symptoms

Symptoms of feline urinary syndrome include:

Urinating outside of the litter box

Entering and leaving the litter box without urinating

Frequent urination

Urinating only small amounts

Straining to urinate

Blood in the urine

Painful urination- your cat may cry when urinating

In male cats, the urethra may become blocked by small particles so they are unable to urinate at all. The reason this is more common in males than in females is because the male urethra narrows where it enters the penis. It forms a sort of bottleneck. This is not the case in female cats. If your cat is unable to urinate at all, you need to take him to the vet immediately. It is a life-threatening condition.
When no cause can be identified, it is referred to as feline idiopathic cystitis.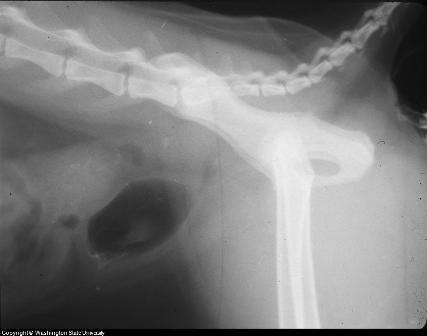 Feline Urinary Syndrome - X-Ray of Feline Cystitis, a term that refers to cat bladder inflammation with no known cause
Causes of Feline Urinary Syndrome
As mentioned, there are several conditions that could cause feline lower urinary tract disease. These include:
Blocked Urethra: Crystals (called struvite) or puss could block the urethra.

Uroliths: These are crystals (calcium oxalate, struvite) that form in the urinary tract and black the flow of urine. It can be caused by low levels of exercise, very dry cat food or a dirty litter box.
Cat Urine: The acid level of the urine is too high.
Bacterial Cystitis and Urethritis: terms that mean inflammation of the urethra.
Diet and Water: If you feed your cat dry food consider switching to wet. Cats that eat dry food urinate less.
Stress: One of the symptoms of stress is painful or difficulty urinating.

Feline Urinary Syndrome Diagnosis

When you take your cat to the vet for symptoms of feline urinary syndrome, the vet will perform a thorough physical exam. The vet will press on your cat's bladder to feel if it is full. If so, the vet can press on the bladder to try and express the urine in the bladder to see if your cat is able to urinate or if the urethra is blocked.

A urine sample will be collected from your cat. If your cat is unable to urinate, urine can be obtained through a procedure called cystocentesis. In this procedure, a needle is inserted through the cat's abdomen into the bladder to obtain a urine sample. It doesn't hurt the cat, and in fact your cat will probably feel better to have the pressure of the urine relieved.

Your vet will do a urinalysis to look for crystals (these would suggest the possibility of bladder stones), white blood cells, and bacteria in the urine. He or she may also take x-rays to look for the presence of bladder stones.
If your veterinarian cannot identify a blockage then causes to be considered include stones blocking the urinary tract (urolithiasis), a problem with your cat's body (anatomical defects) and problems with your cat's behavior.

Feline Urinary Syndrome Treatment

Subcutaneous (under the skin) fluids may be given to help flush out the bladder. Your cat should also drink as much water as possible, so make sure he has fresh water available at all times.

If your cat has a bladder infection, antibiotics will be prescribed. Make sure to give him the entire course of antibiotics, even if he seems to be feeling better before they are all gone.
For cystitis or inflammation of the bladder your veterinarian will need to determine the cause such as bacterial infection, stones or tumor. Prescription medications can be used to treat this condition. You might want to also try a glucosamine and chondroitin sulfate supplement. This type of supplement has shown to help to prevent your cat from getting it again. You might also might want to switch from dry cat food to a cat food designed for urinary health such as Hill's Prescription Diet c/d.

If the urethra is obstructed your cat needs emergency treatment. The obstruction will have to be removed. This involves putting your cat under general anesthesia. A catheter will be inserted into the urethra to dislodge the obstruction, then into the bladder to flush it out. Remember, if your cat shows signs of a blockage, you need to get him to the vet right away. Prompt treatment can mean the difference between life and death. If you have a male cat you can try rubbing the penis between your fingers. This might cause the blockage to come lose.
Anti inflammatory medications may be prescribed to help with any bladder inflammation. Intravesicular dimethyl sulfoxide (DMSO) is used in people and may has had some success in cats. Amitriptyline seemed to reduce clinical
signs for up to a year.
Prevention of Feline Urinary Syndrome
After your veterinarian cures your cat, he or she will need a urine test every 6 months. Preventive steps include a clean litter box, increased drinking, and dietary change to a canned food. Keep your cat's weight in a normal range and consider a glucosamine and chondroitin sulfate supplement.

Help Others with a Cat Urinary Problem
Do you have a cat urinary system related question for our editors or a helpful story to share?

Please include your cat's medical history such as age, sex, breed, medical history, symptoms, diagnosis, diet, changes in behavior, diet and medications.

We will do our best to get back to you quickly (it depends on how many questions we receive each day). If you need an immediate response we suggest using this online cat veterinary answer service that is available 24 hours a day. You only pay for answers that you see and then accept.


Vet Suggestions to Questions from Other Readers
Click below to see contributions from other visitors to this page...

Causes of Blood in Male Cat Urine

My male cat is 4 yrs old and is neutered. Since the last 4 to 5 days he is peeing everywhere. Last night I saw that his urine was red in color, probably …
Cat Spinal Cord Injury and Bladder Problem Not rated yet
My cat has a spinal cord injury (paralyzed tail). He can normally pee a small bit on his own, and also leaks some urine unconsciously, but mainly he relies …