Cat Teeth: Care, Cleaning and Dental Problems

Summary
"Cat teeth require brushing and annual cleaning. Common problems include plaque and gingivitis formation that can lead to other problems such as lesions. It is estimated that 50% of cats that are 5 years of age or older have some form of dental disease and are experiencing related discomfort. Over 85% of cats over age 6 have some form of periodontal disease.

In general, cat dental diseases are grouped into four areas:
Treatment depends on the specific dental problem and if the condition is past the point of being reversible. See below for detailed advice."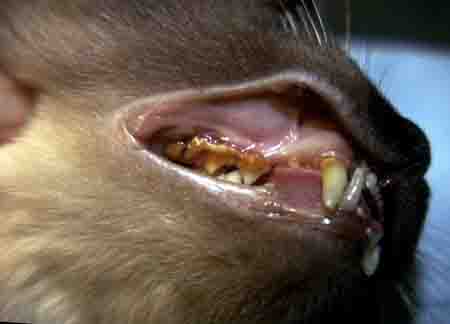 Gross Lesion Dental Problem on Cat Teeth
Overview
Dental care in cats is similar to dental care in humans and is just as important. Over 70% of cats show some form of dental disease by age 3.
Like humans, cats have baby teeth that are then replaced by adult teeth. They have 26 baby teeth, which they begin to lose and replace with adult teeth from 11 to 30 weeks of age. During this time their mouths may be sore and they may eat less. Adult cats have 30 teeth (12 incisors, 4 canines, 10 premolars and 4 molars)
There are six incisors on the top jaw and six on the bottom jaw. These are used to nibble shreds of meat from bones and also for grooming.
There are two teeth on the top jaw and two on the bottom. These are the fangs. They are used to hold objects in the cats mouth and to defend themselves when necessary.
Then there are ten premolars and four molars, which work together to cut food.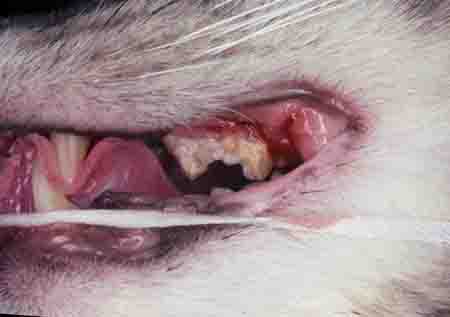 Cat Calculus Deposits on the tooth Surface. It forms through the calcification of dental plaque. It begins as a yellow film and if not removed, can cause bacteria to take hold between the teeth and gums, resulting in infection and other cat dental problems.

How to Brush and Clean Cat Teeth
Video: on
How To Brush Cat Teeth
Put the cat on the table
Don't open the mouth, just push the lip back
Buy a small cat toothbrush or you can buy a small spongy type toothbrush made for humans from a local pharmacy (see picture below). Instead of a toothbrush a soft cloth can also be used to wipe off any plaque from the teeth and gums. Rub the teeth and gums with the cloth.
Toothpaste is not necessary, diluted hydrogen peroxide will work fine (75% water). Dip the brush in it, and it will act as an anti-bacterial.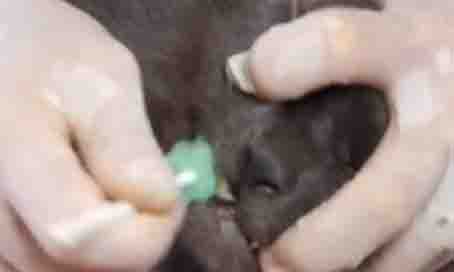 Brushing Cat Teeth with a Sponge Type Brush Purchased At a Local Human Pharmacy
Cat Dental Symptoms
Like humans, cats can have dental problems, such as tooth decay,
losing teeth
and gum disease. It is important to help your pet maintain healthy cat teeth.
Symptoms of problems with cat teeth include:
Bad breath
Yellow or brown deposits on the teeth at the edges of the gums
Reddened gum edges
Receding gums, revealing exposed tooth roots
Drooling saliva (may be tinged with blood)
Lack of appetite
Difficulty chewing food
Mouth pain (pawing at mouth, rubbing side of mouth along the ground, or keeping mouth open all the time)
If your cat shows symptoms of problems with her teeth, she should see your veterinarian for a dental veterinarian for treatment.
Cat Dental Tartar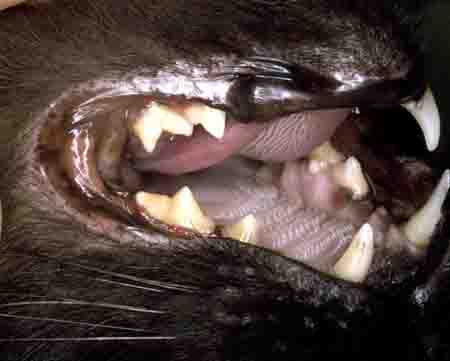 Cat Dental Tartar or Calculus
Problems and Treatment
Periodontal Diseases (Feline Plaque, Tartar, Calculus and Gingivitis)
Cat periodontal problems are characterized by different stages . Each stage is described below.
Cat dental problems start with plaque (a bacteria) formation on the teeth. If left alone the bacteria die and combine with the saliva in the mouth to form calculus (also called tartar). This tartar then progresses causing inflamed gums, a condition called gingivitis. This can cause bleeding gums and swelling.
The tartar also forms below the gum line causing an infection at the root of the teeth destroying healthy tissue and causing a tooth to loosen and possibly fall out. Diseases such as gingivitis are seen in stages:

Early Gingivitis (stage 1): Gingivitis is seen in some younger cats (age 6 to 8 months, called early gingivitis). To avoid this issue, owners are advised to regularly brush the teeth.
Established Gingivitis (stage 2): In this case, calculus or plaque starts to form on the teeth. There an also be swelling on the gums. Treatment involves cleaning the teeth (requires anesthesia). The disease is reversible with treatment. A veterinarian will scale the teeth to remove plaque and calculus.
Early Periodontitis (stage 3): When the feline dental problems spread deeper into the teeth and gums, the cat is considered to have advanced periodontal disease. The periodontal disease is not reversible, so care focuses on stop any spread of the disease. X-Rays are helpful to identify the size of any problems and if treatments such as pocket reduction, bone or tooth recontouring are required.
Established Periodontitis (stage 4): In established periodontitis deep periodontal pockets have formed (greater than 5 mm). Other problems include gums that have recessed, or the loss of bone. Treatment includes the above plus home dental care. It may be necessary to extract damaged teeth. Care will be taken to save healthy tissue and teeth.
End-stage Periodontitis (stage 5): In this stage teeth are extracted. A number of teeth may need to be removed, which is a better option than leaving them in the mouth. In general, owners will see cats respond well to having problem teeth removed.

Feline Ondoclastic Resorptive Lesion (FORL)
Cat FORL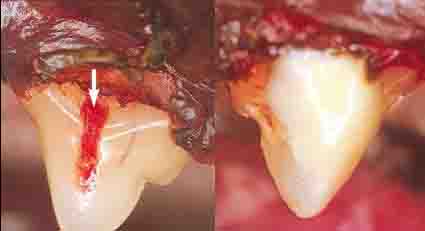 A Feline Oral Resorptive Lesion On the Upper Third Premolar. Before (left) and View After Treatment (Right)
Source:
DentalVet
Almost 75% of cats over the age of 5 get lesions in the mouth that also go by the names cavities, neck lesions, external or internal root resorptions, and cervical line erosions. The cause of this condition is not exactly known.
Symptoms of this condition include more salivation than usual, oral bleeding, or difficulty eating. Some cats show no symptoms while others have a jaw spasm when touched and show signs of significant pain. There are 5 classes of FORL:
Class 1: characterized by enamel erosion.
Class 2: enamel erosion that extends to the dentin (dentin is the substance of teeth that surrounds the pulp, it is covered by the outer enamel)
Class 3: Lesions on the teeth reach the pulp chamber
Class 4/5: The crown of the tooth is destroyed
Treatment options include restoration of the tooth or extraction. Most restorations do not work. There is a crown amputation procedure for extraction where the tooth is extracted while the roots are left behind. This is an option for cats that are not also suffering from periodontal disease.
Fractured Cat Teeth
Cat Tooth Fracture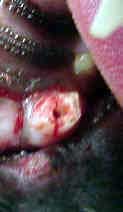 Cat Tooth Vertical Fracture That Spread Through the Crown and Root
Source:
Dentalvet
Causes of fractures in cat teeth include chewing and injury. Broken teeth may enclose the pulp chamber, which is pink or black in color. When you see an exposed area it must be treated. Exposed pulp causes pain for the cat and can open the cat up to infection. Instead of treating the tooth, a veterinarian may recommend that the problem tooth be pulled.
Gingivitis/Stomatitis Syndrome (FGS)

Cat Stomatitis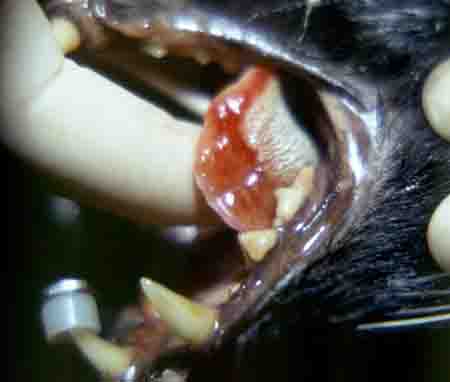 Cat Stomatitis dental disease, which is inflammation of the mucous lining in the mouth. The condition can be painful for the cat and can cause bad breath, bleeding, redness and swelling.
FGS is often caused by an immune system response to plaque bacteria. If this is the case, the condition can be controlled with daily dental cleaning.
With FGS cast will have symptoms such as oral pain, halitosis (bad breath), drooling and a lack of appetite. A veterinarian will see inflamed gums (gingivitis), as well as inflammation on other structures that surround the teeth (caudal fauca, oral mucosa).
Treatment starts by trying to preserve any healthy teeth and tissue. Problem teeth need to be extracted. There is a medication (Depo Medrol), although there are side effectives and problems such as the onset of diabetes. Surgical tooth extraction has been shown to be effective. Teeth are extracted from the canines to the caudal.
Experimental procedures such as laser treatment has promise.
Prevention of Dental Problems

Here are some tips for helping your cat maintain healthy cat teeth:
Feed your cat hard kibble. Soft foods can leave debris in gum pockets at the base of the tooth, which can lead to infections, so keep soft foods to a minimum. Limit the amount of table scraps and sweets you give to your cat.
Hard kibble also helps to remove plaque from your cats teeth.
Brush your cats teeth. You can buy a special

toothbrush and toothpaste

for this purpose. It is generally recommended that you brush your cat's teeth several times a week. This is a good time for you to check your cats teeth and mouth for any problems.
Have your cats teeth and mouth examined by the veterinarian yearly. That way any problems can be identified and treated. If too much tartar builds up on the teeth, it may need to be removed under anesthesia.
Consider a dietary supplement that is made to promote the health of feline teeth and gums and naturally prevent gingivitis.

PetAlive Gums-n-Teeth

is made for this purpose.