Care and Treatment of a Hyperthyroidism Cat
"A common condition known as hyperthyroidism cat primarily occurs in cats of middle age or older. The condition is triggered by thyroid glands that produce too much thyroid hormone. The most pronounced symptom is weight loss. Other symptoms include appetite change, vomiting, diarrhea, and increased urination. Diagnosis is based on the physical condition of the cat, signs of feline hyperthyroidism such as a heart murmur and enlarged thyroid glands and results from a blood test. Limited treatment options are available. Treatment methods include long term use of medications to control thyroid hormone levels, this approach, while effective, has side effects. As an alternative radioactive iodine can be used safely and effectively to destroy abnormal thyroid tissue. Last, cats can be place on a special feline hyperthyroid diet that has restricted iodine levels. A veterinarian could also recommend surgical removal of the thyroid gland."
The thyroid is a small gland located at the base of the neck. It regulates the body's metabolism. Hyperthyroidism is a condition in which the thyroid gland becomes overactive and produces too much thyroid hormone. The gland may enlarge, but this is usually benign (non-cancerous); only 2% of all thyroid growths are malignant (cancerous).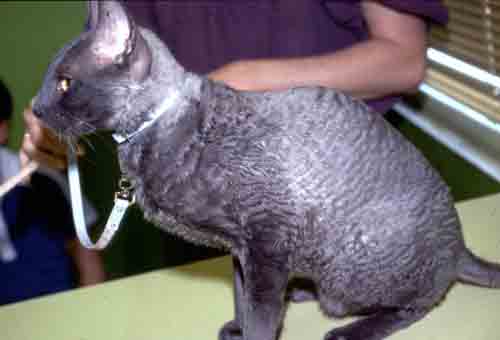 Cat Hyperthyroidism Picture
Source: Washington State University

Hyperthyroidism is a serious problem for cats because it causes the heart to beat faster. It causes high blood pressure in 25% of all cats who have the condition. It causes a condition called thyrotoxic cardiomyopathy, in which the heart enlarges and thickens in order to meet the increased demand on the cardiovascular system.
It is not clear what causes the condition although researchers suspect that it is due to heredity, genetics (inherited), something in your cat's environment or diet. Approximately 50% of cats with this condition have a benign (not cancerous) tumor that has grown in and impacted the thyroid.
In terms of the environment studies have shown a link between feline hypothyroidism and flea powders, flea sprays,fertilizers, herbicides, primarily living indoors. Also cats that exclusively eat cat food from a can are potentially at 2x the risk. Other studies show a link to cat litter and topical parasite medications.
Not having enough iodine in the diet has also been linked to hyperthyroidism (the thyroid stores most of the iodine in the body). Different cat foods have varying levels of this ingredient.
Hyperthyroidism Cat Symptoms
In a hyperthyroidism cat related problem, weight loss is the most common symptom along with an increased appetite. Cats with hyperthyroidism will eat and eat but still keep losing weight. Weight loss may be very gradual or may be very rapid, it varies from case to case. They may also drink a lot of water. There may be periodic vomiting and diarrhea.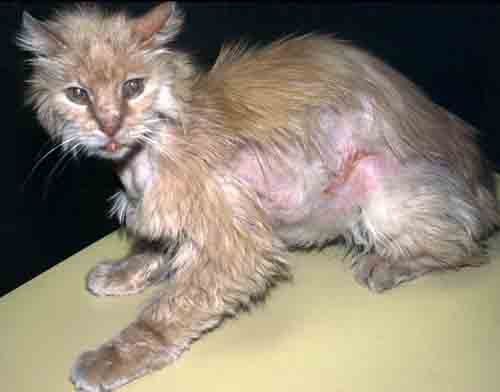 Dermatopathy (cat skin condition) Due to Hyperthyroid Cat Problem
Source: Washington State University
Cats generally don't develop this condition until they are "middle aged," 12 years old on average. Siamese cats are slightly more likely to develop hyperthyroidism than other breeds.
Hyperthyroidism Cat Diagnosis
Beyond noting the overall condition of your cat such as weight loss, a veterinarian may detect a heart murmur, or an enlargement of the thyroid glands.
In a hyperthyroidism cat, a specific diagnosis is confirmed by a blood test. The blood test measures a thyroid hormone known as T4, or thyroxine. In a cat with hyperthyroidism, there will usually be very high levels of this hormone. Occasionally a cat suspected of having hyperthyroidism will have T4 levels at the upper end of the normal range, and then another test called a T3 Suppression Test can be done. If that is not diagnostic, a thyroid scan can be done at a veterinary referral center, or the thyroxine test can be repeated in a few weeks.
Your veterinarian may also examine the pancreas that produces a hormone (TSH or thyroid stimulating hormone) that stimulates the thyroid to produce hormones.
Hyperthyroidism Cat Treatment
There are several treatment options available.
1. Surgery: Surgical removal of the affected thyroid lobe(s). If your cat is otherwise healthy, this is a good option. There is some risk because it is a surgical procedure and anesthesia is required, but the risk is minimal. If the disease involves both lobes of the thyroid gland, the vet may prefer to remove it in two separate surgeries, or may do it all at once. In many cases, only one lobe is abnormal, so only one procedure is needed.
If surgery is the treatment method of choice, your cat will be treated with a thyroid medication prior to surgery. During that time, her appetite should return to normal and she should gain some weight. If your cat has high blood pressure or a rapid heart beat, these can be managed with medication until the surgery.
Your cat will probably be hospitalized for one night after the surgery and be feeling well when she comes home the next day.
2. Radioactive iodine: This must be administered at a veterinary hospital that is licensed to administer radiation therapy, so you may need to get a referral from your vet. Your cat will need to be hospitalized for one to two weeks. The cost may be prohibitive, but it may not- make sure you do that math and see.
This works by injecting radioactive iodine that destroys abnormal thyroid tissue without endangering other organs. It's a very effective form of treatment, and is definitely worth looking in to.
3. Oral medication: If your cat is not a candidate for surgery or for radioactive iodine treatment, she will need to be treated with oral medication. Even if she is going to have surgery or radioactive iodine, she may need oral medication while waiting for those treatments.
The drug generally prescribed is Methimazole. It does not destroy abnormal thyroid tissue but prevents to production of excess thyroid hormone. Possible side effects include vomiting, lethargy, lack of appetite, fever, and anemia. Your vet will monitor your pet while she is on the medication, both to make sure it is working and to check for anemia. If oral medication is the treatment of choice, she will need to be on it for the rest of her life.
4. Diet: Cats who regularly eat beef or poultry in dietary supplements show a decreased risk for hyperthyroidism. Iodine deficiency has been linked to this condition as well. Cat foods vary in the amount of iodine. Other elements that should be part of a diet for hyperthyroidism cat include selenium (helps removes toxicity from thyroid hormones), arachidonic acid anddocosahexaenoic acid (DHA) which inhibit abnormal thyroid cell growth,
Some researchers suspect that soy in food is a contributor to feline hyperthyroidism. Soy is also found in many canned cat foods, a possible explanation for why these foods have been linked to the disease. Other foods that are under study and you may want to avoid include cabbage, cassava, bamboo shoots,turnips, sweet potatoes, Lima beans, onions, garlic, millet and sorghum.
A natural homeopathic supplement formulated to support healthy thyroid function in cats such as Thyro-Pet may also help. It contains ingredients such as Bladderwrack (sea vegetable which is a prime source of iodine), Huang Qui (used for the endocrine system) and Eleuthro (used in ancient China to support energy levels). Ask your veterinarian.
For more information on cat hyperthyroidism cat symptoms, diagnosis and treatment advancements, download this brochure from the Cornell University Feline Health Center here.

References Hyperthyroidism Cat
Hyperthyroid Disease in Cats
Hankison, J. Kris DVM
Effect of Diet on Development of Feline Hyperthyroidism
Patricia A. Schenck, DVM, PhD
Diagnostic Center for Population and Animal Health
Michigan State University, Lansing, MI
Washington State University
Have a Question for our Vet about Cat Hyperthyroidism?
Do you have a feline hyperthyroidism question for our Veterinarian. We'll answer it for free! Please include information such as age, sex, breed, medical history, symptoms, diagnosis, diet, changes in behavior, diet and medications.

We will do our best to get back to you quickly (it depends on how many questions we receive each day). If you need an immediate response we suggest using this online cat veterinary answer service that is available now.


What Other Visitors Have Asked about Hyperthyroidism in Cats and Suggestions from our Vet
Click below to see contributions from other visitors to this page...

Cat Hyperthyroidism Diet Not rated yet
Hello, My 14 year old, female, domestic short hair/mixed breed cat has been diagnosed with chronic kidney disease and hyperthryoidism. We discovered …
Cat Having Seizures Not rated yet
Reader Question: Hyperthyroidism and Cat Seizures I hope someone can help me. I have a 2 year old male cat that has recently developed some worrisome …