Cat eye infection can be due to many types of cat eye problems such as scratches on the cornea, bacterial infection or other eye injuries such as when a foreign body enters the eye. If your cat has any kind of eye problem, it's best to visit the veterinarian for a complete examination and to rule out anything more complicated. Infections can also caused by the Feline Herpes Virus or the bacterial infection Chlamydiosis. The most common symptoms of eye infections in cats are redness and discharge in the eye. Bacterial infection needs to be treated with antibiotics or medicated eye drops prescribed by your veterinarian.
As mentioned in this video from the Cat Health Guide You Tube Channel on cat eye infection, Dr. Patrick McHale, DVM describes the common causes of this type of cat eye problem and provides treatment advice.
Diagnosis
When presented an affected eye or red eyes, a veterinarian will look to determine an underlying cause by observing the following:
Is the cat eye blinking or twitching

Potential Causes of cat's symptoms:

Corneal UlcerUveitis (eye inflammatory disorders)GlaucomaLens luxationKCS (Keratoconjunctivitis Sicca or Dry Eye)
Presence of Eye Discharge

Mucoid or white stringing discharge consistent with KCS (Dry Eye), Conjunctivitis or Keratitis (corneal inflammation)Watery eyes or discharge could be caused by Conjunctivitis, a Corneal ulcer, uveitis, or glaucoma.
No Discharge but red eyes

Could be caused by glaucoma, uveitis or some type of hemorrhage.
Pupil Size

Small or Constricted: Uveitis or corneal ulcers

Midrange Pupil Size: Dry EyeCorneal ulcer, Uveitis, Secondary glaucoma

Dilated Pupils: Glaucoma or problem with the retina, Iris atrophy
Part of the Eye that is red can indicate to the veterinarian the underlying cause. Issues can range from injury, uveitis, glaucoma, corneal ulcer and other conditions based on location of the redness.

Front of the eye: Uveitis or injury

Cornea: Uveitis, Glaucoma, Dry Eye, Corneal Ulcer

Inside Back of the Eye: Hemorrhage or neoplasia

Conjunctiva (membrane on the front of the eye): Conjunctivitis due to bacterial, viral or from allergy

Iris: Uveitis

Sclera: Glaucoma, Uveitis, Lens luxation, Episcleritis
Conjunctivitis
Conjunctivitis in cats or cat pink eye refers to inflammation in the lining of the inner surface of the eyelids. It can be due to an infection or something in your cat's environment.
The conjunctiva has antibodies which work to both fight off infection and lubricate the eyeball. Often, when an organism triggers a feline immune system response to a viral or bacterial invader, the result is feline conjunctivitis.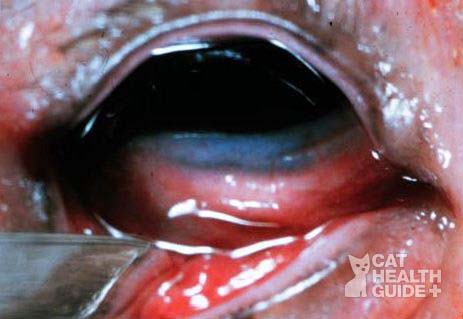 Cat Eye Infection that is causing case of Feline Conjunctivitis
Source: Washington State University
Causes of Conjunctivitis in Cats
Symptoms
Cat Eye discharge (thick or watery, light or dark)
Swollen eyelid
Red eyelid
Squinting
Blinking frequently
Viral Cat Eye Infections
Feline Herpesvirus 1 (Feline Viral rhinotracheitis or FVR)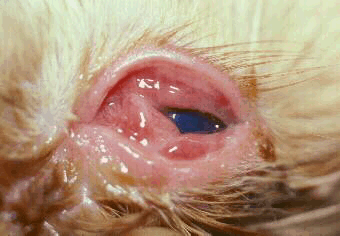 Feline Herpes Virus Conjunctivitis
This virus is unique to cats and is the most common cause of conjunctivitis. It is spread by infected cats and in rare cases from a virus that is on a contaminated surface. Treatment includes medicated eye drops. FVR is caused by an infection from feline herpesvirus type 1.
Other problems that tend to occur as a result of this virus include:
Ulcer or sore on the cornea (ulcerative keratitis)
Inflamed cornea (stromal keratitis)
Inflammation of the cornea and conjunctive or covering of the white portion of the eye (proliferative keratoconjunctivitis)
Segment of dead bone (corneal sequestrum)
Eyeballs stuck to the eyelid (corneal symblepharon)
Dry eye (keratoconjunctivitis sicca)
Eye squinting and blinking
Eye discharge
Redness in and around the eye
Symptoms
Symptoms caused by FVR can last for up to 1 month and may include:
Lymph node enlargement
Nasal congestion
Sudden sneezing
Loss of smell
Tiredness (lethargy)
Appetite loss
Fever
Nasal discharge (green or yellow)
Cat Eye Infection Treatment for FVR

FVR is one of the feline upper respiratory infections that requires treatment. The veterinarian will do a PCR test for FHV-1 looking for infectious agents in the cat's eye.
There is no cure for this virus with some adult cats recovering with no treatment. Some cats may need to be hospitalized to receive:
Intravenous fluid
Eye medication
Antivirals
Probiotics
L-lysine supplement (immune support)
Nutrition support
Respiratory assistance through air humidification or nebulization
Prevention of FVR is achieved via vaccination (FVRCP is a core vaccine).
Feline Panleukopenia
Feline Panleukopenia is a vaccine preventable disease that is part of the core recommended vaccines. Panleukopenia is very contagious and can be fatal. It is often found in wild cats that were never vaccinated.
This infection can cause the retina in the eye to take on an abnormal (retinal dysplasia) and can cause lesions on the eye.
Other symptoms that accompany changes in the eye include:
Vomiting
High fever
Inability to gain weight (anorexia)
Lethargic behavior
Dehydration
Diarrhea (not common)
There is no effective treatment for this condition.
Feline Infectious Peritonitis (FIP)
Feline infectious peritonitis is caused by a coronavirus. Symptoms include inflammation on the inside of the eye behind the cornea (called Anterior uveitis) and fiber deposits on the back of the cornea ( keratic precipitates). Puss (called hypopyon)can also be present.
Inflamed lesions may occur including eye inflammation and a detached retina. It is not easy to diagnose this disease with tests only suggesting its presence.
Cats with FIP will only survive for a few months. Treatment with anti-inflammatory drugs such as prednisone will help to provide a good quality of life during this time.
Feline Leukemia Complex
This condition can effect any portion of the eye. This virus is caught by direct contact with an infected cat. Associated symptoms include anemia (reduced number of red blood cells) and lymphoma which is unusual cell growth in the lymph glands.
Feline Immunodeficiency Virus (FIV)
The feline immunodeficiency virus is transmitted when one cat bites another. It starts with a long period without signs of the disease. This period is followed by increased susceptibility to opportunistic infections. The virus resembles the human aids virus.
Symptoms include weakness or lethargy, fever, enlarged lymph nodes, weight loss, chronic diarrhea, chronic upper respiratory diseases, chronic inflammation of the lining in the mouth (stomatitis), gingivitis and chronic skin infections.
Treatment of FIV is with drugs used for aids in humans including antiviral drugs and Interferon alpha. Supportive care is provided for symptoms including transfusions, fluid therapy. Life expectancy for cats with this disease is 2 years.
Feline Calcivirus
Almost all cats with an upper respiratory infection have this virus. Conjunctivitis accompanies this disease.
Symptoms can include fever, inflamed membrane in the nose (rhinitis), redness in the eyes (conjunctivitis) and nasal discharge.
Treatment is with antibiotics.
Bacterial Eye Infections
Chlamydiosis
This is the second most common cause of cat conjunctivitis. Other symptoms include fever, irritated nose (rhinitis), conjunctivitis (redness in the eye), palatine and/or glossal ulcerations and nasal discharge.
The condition is treated with Tetracycline.
Protozoal Infections
Toxoplasmosis
Toxoplasmosis is common in cats. It causes of many cases of inflammation that occur inside the lining of the eye (feline anterior uveitis). It is difficult to diagnose this condition.
Treatment is with the oral medication clindamycine.
Fungal Eye Infections
Cryptococcosis
Cryptococcosis is caught from your cats environment. Eye problems associated with this infection are peripheral blindness, dilated eyes, and pupils that do not respond to light, detached retinas, an inflamed retina and blindness.
Eye problems are a sign that the cryptococcosis is effecting the central nervous system.
Other symptoms include changes in your cats temperament, odd behavior, depression, seizures, circling behavior, seizures, head pressing, head tilt, uncoordinated movements (ataxia) and dementia.
The prognosis for cats with this condition is good with long term administration of oral anti-fungal medications (triazole, fluconazole, itraconazole, voriconazole).
Ask Our Vet a Question about a Cat Eye Infection
Do you have a question about a cat eye problem? Share it! We'll pick one question to answer each week for free.

Please let us know about the age of the cat, breed, when any cat skin symptoms began, is the problem in one or both eyes, have the symptoms changed over time, is your cat primarily indoor or outdoor, the presence of other pets, changes in your cats routine, bathing routine, or anything else that will help us understand your cat's medical history, including any tests and results.

If possible, please include a picture. Seeing the skin problem can help us improve suggestions made. Please include information such as breed, age, sex, history, changes in behavior, products used etc.

We will try and respond as quickly as possible. If you have an urgent question we suggest using this online veterinary cat answer service that is staffed by vets and available 24 hours a day. You only pay a small fee for answers you accept.
What Other Visitors Have Asked and Vet Suggestions
Click below to see contributions from other visitors to this page...

References
Feline Infectious Peritonitis - News in Diagnosis and Treatment K. Hartmann Medizinische Kleintierklinik Ludwig Maximilians University, Munich, Germany
European Advisory Board on Cat Diseases
Ocular Manifestations of Feline Systemic Diseases Maurice ROZE. DVM. DECVO Ophthalmology. Clinique 
Feline Corneal Diseases A. Regnier Department of Clinical Sciences, Ecole Nationale
Major Infectious Diseases of Dogs and Cats G.R. Carter Department of Biomedical Sciences and Pathobiology Virginia-Maryland Regional College of Veterinary Medicine Virginia Tech, Blacksburg
Conjunctivits
Cornell Feline Health Center Cornell University College of Veterinary Medicine