How To Do a Cat Lion Cut
"Cat lion cut is an option for owners of long hair breeds that want to either give their cat some relief from the heat, or a convenient way to prevent matting and shedding.."
If shedding, matting and hot weather are a problem for your long hair cat then you might want to consider a cat lion cut. A feline lion cut is a type of hair cut where your cat's coat is shaved with the exception of the face, mane, front legs, back feet, and tip of the tail. It is a popular cut among owners of Himalayans and Persian cats. Owners with long hair cats that shed often like this cut. If you don't like the cut, a cat's hair will grow back at the rate of approximately an inch a month. Not that tail hair may take much longer, up to a year to grow back.
We'd suggest using a professional groomer for a lion cut since it is very easy to nick the skin of a cat. Cat skin is paper thin and cuts easily. You can usually have the mane cut short or long.
How to Give Your Cat a Lion Cut

How to Cut a Lion Clip on a Cat
Step by Step:
1. Have your cat stand on all four legs on a table perpendicular to you.
2. Use an electric shaver and make one shave downward on each side from where you want the "mane" to start.
3. Hold your cat in one arm with two legs on the table and follow the downward shave from the front to the back. Hold your cat so that the skin is taught. Try and match the way you shave on each side of the cat.
4. Cut all the hair except the hair on the head.
5. Some owners like to cut the hair on the tail. Note that tail hair grows back slowly.
Cat Lion Cut Grooming Examples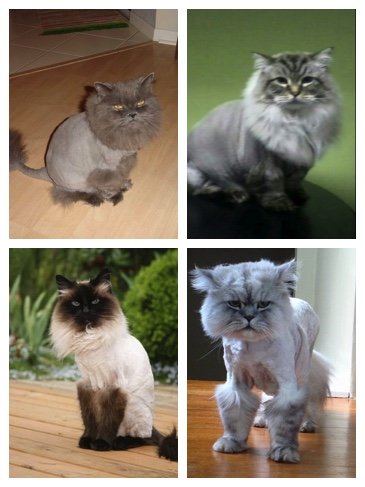 More Fun Examples of lion cut cats.
Have A Question or Story to Share about Cat Grooming?
Do you have a question or great story about grooming a cat? Share it!

If you have an urgent question we suggest using this online veterinary cat answer service that is staffed by vets and available 24 hours a day. You only pay a small fee for answers you accept.
What Other Visitors Have Suggested and Asked about Grooming. Each One Has a response from our Veterinarian.
Click below to see contributions from other visitors to this page...

Long Hair Cat Matting Problem Not rated yet
Our older long-haired female cat started having matting of the hair along each side from front sides back to the tail. I back brush every day but the …
My Sweet Sugar Boy Not rated yet
Reader Comment on Cat Grooming My Persian cat Sugar Boy (male) is 15 years old and the sweetest kitty I've ever had. I was looking for kitty hair …
From Cat Lion Cut to More on Cat Hair