Symptoms and Treatment of Giardia in Cats
"The protozoon Giardia cati causes the intestinal infection referred to as giardia in cats. The infection causes greasy diarrhea with a progressive loss of weight in cats. Symptoms are not always exhibited in giardiasis and young kittens are more prone to clinical features of the disease. Diagnosis is not always successful and requires repeated laboratory procedures to isolate the causative organism. Treatment is done with help of specific anti – parasitic drugs, but is termed controversial amongst researchers. Natural remedies however are a treatment of choice for overcoming clinical symptoms of diarrhea and enhancing body conditions and physiology of digestive system."
Life Cycle and Transmission of Giardia in Cats:
Giardia cati is found in the environment; in the form of cysts, which contaminates drinking water, food and living areas of pets. These cysts once ingested by a healthy cat, releases an active form of protozoa, called trophozoites. Trophozoites are flagellated and can move around. These trophozoites attach themselves to the cat's delicate intestinal lining and damage it. Additionally, they can cause a disturbance in the absorption of nutrients through the villi of the intestine and cause discomfort to the affected cat.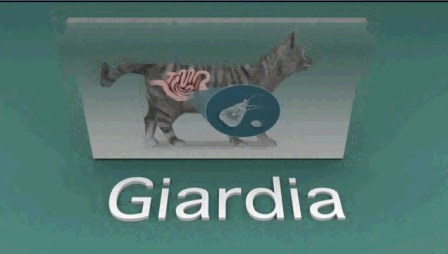 Giardia in cats results is asymptomatic in most cats, but can cause symptoms such as diarrhea, abdominal pain, deyhdration and weight loss.
Source: Cornell University College of Veterinary Medicine
Diarrhea is usually the only sign of disease accompanied by progressive weight loss and body condition. After an unknown time span, these trophozoites start encysting themselves in a shell and cysts are released in malformed feces of anffected cat; the feces appears pale, deformed and has a bad odor. Released cysts further contaminate the environment and can be transmitted to other cats, dogs and people ingesting them.
Signs & Symptoms of Feline Giardia:
Giardiasis is usually not exhibited with any symptoms at all. Adult cats with giardia infection may appear normal and asymptomatic (without symptoms) except for the pale, deformed, soft and bad odorous feces. Younger cats and kittens are more prone to severe infections and mostly show signs of diarrhea. Diarrhea may be acute (sudden), intermittent or chronic in nature and can contain excessive mucus and fats. Diarrhea has a bad smell, and appears greasy; excreted in repeated shots in small quantities.
Since, giardia in cats causes damage to the delicate intestinal lining and disturbs the mechanism of absorption of nutrients in the small intestine, an affected cat may feel lethargic and a progressive loss of weight is noticed. Vomiting is occasional, and other signs such as fever, secondary infections and loss of body condition are noticed in very severe cases of feline giardia.
Diagnosis of Giardia in Cats:
Giardia diagnosis is a hard task, because the organism is smaller in size as compared to giardia species in dogs and other animals, and also cysts and/or active form of giardia in cats is not released each time the cat defecates. It is required that flotation techniques of subject's feces should be repeated at least 3x for 3 – 5 days for optimum results.
A veterinarian may try and increase the number of tests conducted a day to increase the chance of making an accurate diagnosis. Active, flagellated forms of giardia in cats, i.e. trophozoites, are always observed in a simple smear of loose stool in saline, observed under the highest possible microscope magnification. On the other hand, cysts are always present in a firm stool, which appears pale, deformed and has a bad odor.
Modern serological techniques, like ELISA can be used for detecting a giardial antigen in the feces of an affected cat, but the specificity and severity of condition cannot be determined through this technique. It may be possible that a cat with no symptoms at all may test positive for giardiasis and on other hand; cats with acute, chronic or intermittent diarrhea may not be confirmed for giardiasis. In such cases, differential diagnosis should be carefully carried out as it has been observed that diarrhea is caused by secondary bacterial infections. Similarly, feline coccidiasis may be represented with the same signs and symptoms as exhibited by giardia in cats.
Giardia Treatment in Cats:
Bathe your cat with shampoo before starting treatment and clean all food and water dishes. This will help to prevent reinfection.
Cat giardia treatment can involve a choice of one or more anti-parasitic drugs (Metronidazole most popular), but there is no approved treatment available because most anti – parasitic drugs in used have severe side effects on cats. Metronidazole can be used alone or in combination with fenbendazole for eliminating giardia in cats, but these drugs are never recommended for prolonged usage. Most researchers and veterinarians believe that a course of anti – parasitic drugs in cats should not exceed from 5 days. Acute side effects such as vomiting, fever and ataxia (lack of muscular coordination) along with long term effects such as bone marrow suppression, cancerous developments and intestinal ulcers have been related with these anti – parasitic drugs.
It is therefore recommended that feline giardia treatment should involve low doses of anti – parasitic drugs, supportive supplements and symptomatic remedies such as herbal extracts selected to control symptoms. These natural remedies are not only safe, but also can be used for long term treatment of gieardia in cats symptoms. Cats kept in areas which are epidemically exposed to giardia, should be administered natural remedies for a long duration. Preventive measures such as an improvement in hygienic standards and avoiding wet places should be followed.
Suggested cat giardia natural remedies include:
Digestive Support: Natural ingredients such as licorice, marshmallow and elm help promote absorption of nutrients and digestive function.
Natural Moves: Formulation includes dietary fiber (psyllium), oats and aloe to support regular bowel function.
Parasite Dr: As the name implies, ingredients such as wormwood and neem help the body naturally fight off parasites such as the type that causes Giardia in Cats.
Your veterinarian may also recommend that during
giardia in cats
treatment, the cat be switched to an easily digestible diet.
Probiotic
and prebiotic supplements can also be used to help restore the health of the digestive system.
References:
Cornell University College of Veterinary Medicine

Have A Question about a Cat Giardia Problem or Have a Story That Will Help Others?
Do you have a question or story about a feline giardia related problem for our veterinarian to answer? Share it! We will answer it for free!

If possible, please include a picture and include information such as breed, age, sex, medical history, changes in behavior, products used, indoor or outdoor etc.

We receive many questions, so it might take a while to respond. If you have an urgent question we suggest using this online cat veterinary answer service that is available 24 hours a day.