Feline Urinary Support
"Feline urinary support could involve dietary change, natural supplements and prescription medications can be used to help with cat urinary problems including infection, bladder stones and feline lower urinary tract disease. Research supports the switch to canned food and possibly a natural supplement."
Cat urinary support is important to her overall well-being. Feline urinary support includes helping your cat avoid bladder infections (feline UTI), the formation of stones (struvite uroliths or calcium oxalate uroliths) that might block urine from exiting the body and inflammation of the bladder (feline cystits). Problems that occur in the urinary tract and bladder of cats are often referred to as Feline Lower Urinary Tract Disease.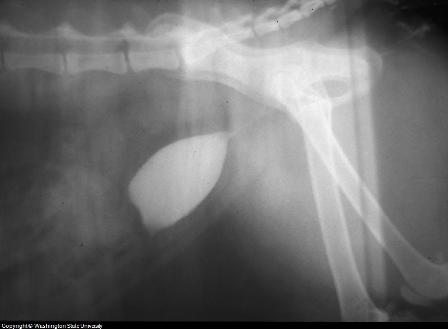 Feline Urinary Support was required for this
3 year old with feline cystitis (cat bladder inflammation)
Source: Washington State University -From the collection of Dr. Barbara Stein.
Diet and Feline Urinary Support

Research over the past 30 years has shown a link between diet and the formation of stones in your cat's urine. According to S.D. Forrester from Hill's Pet Nutrition, "the only treatment that has been associated with a statistically significant difference in recurrence of clinical signs in cats with FIC (feline bladder inflammation) is feeding moist food (> 60% moisture). During a 1-year study, clinical signs recurred less often in cats with FIC when fed a moist food compared with cats fed the dry formulation of the same food.
Today's name brand cat food's are formulated to minimize the formation of one type of stone, struvite, in the urinary system. Stone formation is important since they can cause a blockage in the bladder. Unfortunately, there has been a rise in the formation of another type of stone which is called calcium oxalate.
It your cat is prone toward stone formation, then your veterinarian will probably suggest a canned vs. dry diet, and in some cases, a Prescription Diet formulated for urine support such as Hill's Prescription Diet c/d.
Cat Urinary Tract Infection and Cat Urinary Tract Health
Infection is caused by bacteria entering your cat's body from the area where they urinate. If your cat has a dirty litter box for example, just going into the box could cause bacteria to enter your cat and cause inflammation in the bladder.
Your cat could also get infections if the urinary system itself is not functioning properly. Urine is natures way of cleaning the urinary tract. If your cat is not urinating enough then the system isn't being flushed of bacteria as often as is required. To increase urination your cat either needs to take in more liquids or have any problems that are causing urinary problems corrected. Problems are not always physical. Stress itself can cause your cat to urinate differently.
The simple solution to this problem is to make sure that your cat has access to fresh drinking water at all times. Cat naturally tend to drink less and get their moisture through food. If your cat doesn't drink enough, try switching from dry food to canned. Canned foods have significantly more water than dry.
Frequency of Feeding and Feline Urinary Support
The number of times you feed your cat a day could have an impact on the amount of water your cat takes in. In one study, feeding your cat 2 to 3 times a day was associated with an increase in total water consumed vs. only giving your cat 1 meal.

Feline Urinary Support Natural Supplements

There are several natural ingredients that are associated with helping cats with urinary problems. According to PetAlive these include:
Arctostaphylos uva ursi helps with normal pH levels in the urinary tract. (Larsson B, Jonasson A, Fianu S. "Prophylactic effect of UVA-E in women with recurrent cystitis: a preliminary report." Current Therapeutic Research 1993;53(4):441-443. ) This herb contains the glycoside arbutin as the main active constituent.


Berberis vulgaris is a widely studied herb which contains berberine as a main constituent, and is well known for its restorative effect on the bladder and urinary tract. Berberis also helps to support healthy immune system functioning. (Li SY, Ling LH, Teh BS, et al. "Anti-inflammatory and immunosuppressive properties of the bis- benzylisoquinolines: in vitro comparisons of tetrandrine and berbamine." Int J Immunopharmacol 1989;11(4):395-401.)


Cantharis (6C) is often recommended for its ability to maintain a healthy flow of urine and soothe the bladder.


Staphysagris (6C) is a proven natural remedy also recommended for urogenital health .
One product to research is UTI-Free Formula for Pet Urinary Tract Infections. It is made specifically to support urinary health.
Another natural supplement that has some clinical support for helping with feline lower urinary tract disease is the supplement glucosamine (Glycosaminoglycans - GAGs). In a clinical trial, administration of 125 mg glucosamine by mouth once daily was not associated with any difference in clinical signs compared with cats that received placebo. However other evidence supports the notion that while it may not help all cats, in those that it does, a positive result is achieved.
Other natural products associated with cat urinary health include dried cranberry extract, ascorbic acid, and sometimes herbs designed to make your cat's urine more acidic. This helps to prevent bacteria from growing in the bladder and therefore helps to prevent bladder infections.
Stress and Feline Urinary Support
One of the risk factors associated with feline syndrome (FUS is the same as feline idiopathic FLUTD) is stress. Factors that can cause stress include constant fighting with another cat and a dirty litter box.
Prescription Medications and Feline Urinary Support
Antibiotics: These are used to help with infection. The mediation is given to your cat via a catheter which is inserted into the urethra (tube that leads from the bladder to the outside of the body).

Amitriptyline: This is a drug used to address behavioral problems. Two studies have tested the drug in cats. The first saw no positive effect and the second show improvement in 9 of 15 cats. This drug is used in humans for this problem.
References:
State of the stone: epidemiological shifts in feline urolith type
Professor Carl Osborne DVM, PhD, DipACVIM
University of Minnesota College of Veterinary Medicine, 1352 Boyd Avenue, St. Paul, Minnesota 55108,
USA

Feeding Your Cat: Know the Basics of Feline Nutrition
Lisa A. Pierson, DVM

FLUTD: Are You Choosing the Right Therapy?
Feline Idiopathic Cystitis
S.D. Forrester
Hill's Pet Nutrition, Topeka, KS, USA.
Feline lower urinary tract disease (FLUTD)
B. Gerber
Dr. med. Vet., Dipl. ACVIM + ECVIM-CA,
Vetsuisse Faculty University of Zurich


Help Others with a Cat Urinary Problem
Do you have a cat urinary system related question for our editors or a helpful story to share?

Please include your cat's medical history such as age, sex, breed, medical history, symptoms, diagnosis, diet, changes in behavior, diet and medications.

We will do our best to get back to you quickly (it depends on how many questions we receive each day). If you need an immediate response we suggest using this online cat veterinary answer service that is available 24 hours a day. You only pay for answers that you see and then accept.