Symptoms and Treatment of Ear Mites in Cat (Otodectic Cynotis Mange)
"The condition ear mites in cat is the most common form of feline mange. It is caused by a parasite called a mite that lives on the surface of the ear. Common symptoms are itching, oozing from the ear and shaking the head. Treatment is with a topical ointment applied to the ear to kill the mites."
Mange is caused by two types of mites, those that burrow under the skin and others that impact the surface of the skin. Otodectes cynotis (ear mange) is a non-burrowing ear mite that lives by eating skin debris. This condition is spread through direct contact between two animals.
The ear mite irritates the skin by excreting toxins that irritate the ear.and cause the ear canal to become inflamed. For more extreme cases the ear produces a fluid or waxy substance that causes bacterial and fungal infections to develop.
Mites could spread to the feet, face, neck, and tail. Adult mites can survive on your cat for several weeks.
Otodectic mange is highly contagious. Cats with the condition should not be near other animals. Also the area where you cat lives should be thoroughly cleaned to avoid reinfection.
Humans infections are rare.
Symptoms of Ear Mites in Cat
Symptoms of ear mite infestation include:
Shaking and/or leaning of the head
Itching
Scratching of the Ear
Ear Swelling
Ear drum tear
Inflammation in the middle and inner ear
If infection occurs it can spread to the head and neck causing additional areas with red skin, crusty skin and scaling.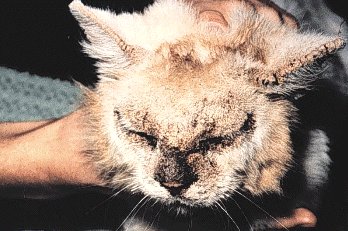 Picture Ear Mites in Cat (Feline Mange)
Diagnosis of Ear Mites
Your veterinarian will use a device called an otoscope to look into the ear or will take a sample of any ear discharge with an ear swab. When magnified your veterinarian will be able to see the mites.
Treatment of Ear Mites in Cat
The first step in treatment is to clean the ears. Your veterinarian will use a topical medication that is applied to the ear canal such as Milbemite™ which contains the miticide 0.1% milbemycin.
Revolution (Selamectin) is also recommended and is applied twice to the skin at 30 day intervals. It is applied topically in single spot on neck in front of shoulders as you would apply for flea control.
Be sure to clean the area where your cat lives to avoid a repeat infestation of the ear.
References:
External Parasitic Diseases of Dogs and Cats
P.A. Payne1, M. W. Dryden and G.R. Carter
Department of Diagnostic Medicine-Pathobiology
College of Veterinary Medicine
Kansas State University

Share Your Questions and Stories on Treating Scabies and Mange
Help other owners who are treating cats with mange or ask your questions and our Veterinarian will answer for free!

Please provide details such as your cats skin condition, age, breed and other medications. Submit pictures if you can below.

Our Veterinarian will respond as quickly as possible, which is based on the number of questions received.

If you have an urgent non-emergency question we suggest using this online veterinary cat answer service that is staffed by vets and available 24 hours a day.