Selecting the Best Cat Litter Brands for Your Kitty
"Review these descriptions of the best cat litter brands available. The most popular type is clumping clay litter since it is easy to scoop. Clay litter is the cheapest type of litter, but it isn't great at absorbing liquids and isn't scoopable. There is little risk of a cat ingesting scoopable litter and causing some type of obstruction during grooming. Cats in general prefer finer cat litter and tend to gravitate to the texture experienced as a kitten. Other types of litter are recommended for cats that have a respiratory condition such as dust free wood litter for those with feline asthma and recycled paper for cats that are injured or have had surgery."
There are numerous cat litter brands and it can be confusing to choose among them. In general we recommend pelleted or non clumping litter for kittens and clumping litter for older cats. The reason is that kittens may try to eat the clumped portions of the litter. Once your cat turns older, the clumps make it easy to identify those areas where you cat urinated for easy removal.


Some of the Most Popular Cat Litter Brands
You should scoop your cat's litter box 2x per day to ensure that it remains odor free and to reinforce to your cat that it is a clean private place for feces and urine.
Cat litter brands differ based on the materials they are made from Preferred materials for cat litter are clay, corn, wheat and pine. In general the finer the material (like sand), the more it is going to be preferred by your cat. We do not recommend scented brands since cats are very sensitive to odor.
If changing the brand of cat litter do so gradually. Mix the two brands together and then gradually increase the percentage of the new brand until you make the full transition.
Recommended Cat Litter Brands
Dr. Elsey's Precious Cat Ultra (TOP PICK)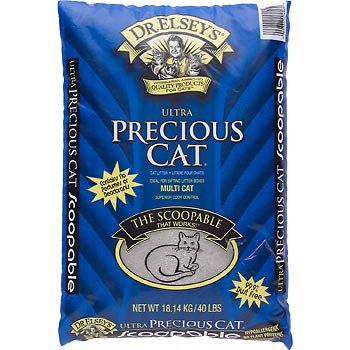 Dr. Elsey's Precious Cat Ultra is a clay based cat litter that clumps when wet and has very low levels of dust. The clay prevents moisture from reaching the bottom of the box and it has excellent odor control. This product is 99.9% dust free, is hypo-allergenic, contains no plant proteins and is all natural.
Other features include hard clumping so they are easy to remove, great for multi-cat households, and it works well in sifting or mechanical litter boxes.
Worlds Best Cat Litter
World's Best Cat Litter Original Formula is also one of our favorite cat litter brands and is a close runner up to Dr. Elsey's. It is a corn based clumping litter. Whole kernel corn traps and absorbs urine and ammonia for exceptional odor control. It is flushable, septic safe and biodegradable.
It scoops easily, is silica dust free and works in self cleaning litter boxes. World's best is safe for cats and kittens.
Swheat Scoop Cat Litter
Swheat Scoop Natural Wheat Litter is a safe, fast clumping litter that is made from naturally processed wheat. It is biodegradable, certified flushable, safe for kittens, safe for declaws, safely digested, and guaranteed ammonia odor free.
Swheat scoop cat litter is virtually dust free.
Feline Pine Litter (clumping version)
Feline Fresh Clumping Natural Pine Cat Litter is flushable, scoopable, naturally sterile and biodegradable, Feline Fresh litter is made from 100% pure Southern Yellow Pine, which completely eliminates litter box odor. Be sure to purchase the clumping version of this product.
Pine is often recommended for its dust free qualities, such as for cats that have a respiratory diseases such as asthma.
Other Cat Litter Brands to Consider
Arm and Hammer Cat litter
Arm and Hammer makes a clumping litter. Clumping litter forms clumps when it gets wet, so urine can easily be removed from the box. Clumping litter helps keep your cat's litter box fresher longer. It also does not have to be changed as often as plain clay litter. Arm and Hammer litter contains baking soda to help keep your cat's litter box fresh.
Exquisicat
Exquisicat makes a litter from silica crystals. The crystals absorb moisture to hold in odors. Some cats do not like the feel of the crystals, however.
Fresh Step
Fresh Step makes another clumping litter. Fresh Step contains carbon, to help control odors. The carbon does not have a scent; it simply holds in odors.
Jonny Cat
Jonny Cat makes a clay litter. It does not clump, so the litter will have to be changed more often that clumping litter. It's cheaper than clumping litter, however. Jonny cat contains a fragrance that is released upon contact with moisture, to keep the litter smelling fresh. Some cats don't like scented litter, however.
Scoop Away
Scoop Away makes clumping litter. It contains scented crystals to keep the litter smelling fresh. Again, some cats don't like scented litter, though which will result in avoidance of the litter box.
Tidy Cats
Tidy Cats offers a litter that is a blend of clay and silica gel crystals. The silica gels help to absorb moisture, which helps to control odors.
Yesterday's News
Yesterday's News, as you might deduce from the name, is made from recycled newspapers. You can use it all the time if you like, but it is particularly recommended for cats who have had surgery, such as when they have been declawed. Regular litter can get into the surgical incisions in their toes and cause infections, which pellets like Yesterday's News cannot.
Cat Attract
Cat Attract Litter contains an additive which attracts cats to the litter box. It is a clumping litter for cats that urinate outside of the box.
References
Love it or Hate it. Share Your Experience with Different Cat Litter Brands.
Do you have some experience with cat litter brands that will help other cat owners?
What Other Visitors Have Said about Cat Litter
Click below to see contributions from other visitors to this page...