Cat Sneezing Green Mucus
by Adi and Other Readers Followed by Vet Suggestions
(Israel)
Reader Question: My Cat Is Sneezing and Green Mucus Is Coming Out, Should I Be Concerned?


I just adopted a be little cat I found on the street. She is about 5 months old. She has been with me for around 3 months. A couple of weeks ago she started sneezing although then it wasn't severe. She also had a rather big lump on her side later found to be a scratch/bite. The vet took out thru puss and gave her antibiotics; we also took her through the process assuring she won't later give birth. She is still sneezing and lots of green mucus comes out. The vet wasn't told about this because it wasn't I who took her.
How worried should I be? Taking her to the vet is really expensive which is why I didn't do it the moment I got concerned.
Veterinarian Answers Reader Question Regarding Cat's Green Mucus
Hi,
Upper respiratory infections are a common problem in young cats, so that would be my top rule-out based on your description. If that is indeed what is going on with your cat, you'll be happy to hear that many individuals get better on their own with only symptomatic care (e.g., keeping the cat's eyes and nose clear with a warm wash cloth, placing it in a steamy bathroom a couple of times a day, and making sure it keeps eating and drinking). Some owners also report success with
homeopathic remedies.
If your cat isn't significantly better within a week or two or if her condition worsens (e.g., she starts to have trouble breathing or stops eating), make an appointment with your veterinarian. She may need antibiotics to clear a bacterial infection or there could be something other than an upper respiratory infection going on.
Good luck,
Jennifer Coates, DVM
Join in and write your own page! It's easy to do. How? Simply click here to return to Cold.
Cat has chronic sneezing with mucus
by Sharon
(Sacramento California )
We got our cat from a rescue agency. She has been on antibiotics and it didn't do any good. She is fine in every other way except that she sneezes mucus where ever she goes. Is there anything available to help her and us? Thank you.

See Vet Suggestion on Cat Sneezing and Mucus after Next Question
Join in and write your own page! It's easy to do. How? Simply click here to return to Cold.
Why Cat is Sneezing Green Mucus
by Ella Followed by Response from Our Veterinarian
(Florida)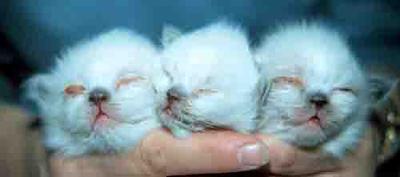 Picture of Kittens with Upper Respiratory Infection, a possible cause of cat sneezing mucus. Queen Was Ill During Preganancy.
Source: Washington State Unviersity, Dr. Barbara Stein
Many readers have asked about a cat sneezing green mucus and cat colds. Here are a few reader questions and some suggestions from our Veterinarian.

Reader Question 1

Hey,

My female kitten is sneezing green mucus. That's her only symptom of a cat cold. I've wiped her nose, and she only sneezes a couple times day. But the mucus has turned green. What do I do? I literally adopted her, last Wednesday. Please help me solve this question.

Thanks.

Reader Question 2

My cat started sneezing 2 days ago and now there is green colored mucus coming out of his nose. Does he need to go to the veterinarian or can O treat him at home.

He is still eating and drinking fine.

Answer: Vet Suggestion Cat Sneezing Green Mucus

Hello Readers,

I can't definitively diagnose a cat based off of a description alone, but based on her history and clinical signs, it sounds as if the cat could be suffering from a respiratory infection. A variety of microorganisms could be responsible, including viruses like herpes virus and calicivirus and bacteria like Chlamydophyla, Mycoplasma and Bordetella. Many cats are able to clear these infections on their own, but particularly with the viruses, chronic disease is a possibility.

Your best option is to bring your cat in to see your veterinarian. He or she should be able to give you a pretty good idea about what is going on based on a thorough physical exam and perhaps some diagnostic testing and then prescribe appropriate treatment. If you want to try something at home first, keep your cat's eyes and nose free of buildup by regularly wiping them with a wet, warm cloth, and encourage him to keep eating, drinking, resting, and relaxing. Putting your cat in a steamy bathroom (run a hot shower with the door closed) for 15 minutes twice a day can also help loosen thick or dry secretions.

If at any point his symptoms get worse rather than better, he begins to cough, or he stops eating, definitely make an appointment with your veterinarian.

Regards,

Jennifer Coates, DVM