Cat Skin Issue Under Front Leg
by Ken Laubmayer
(Loveland, Co.)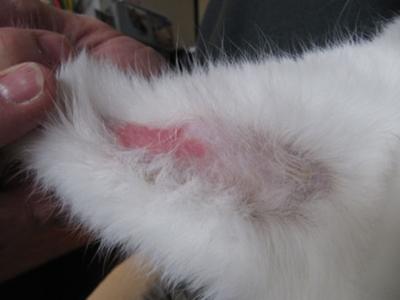 Under Right Front Leg - Example 1
Reader Question: Cause of Lesion on Cat Leg


My cat, Mr. Beeg is a Domestic short hair, 12-13 yrs, male, neutered, We use Diamond brand maintenance food. Our cat is behaving normally and is an inside cat.
The skin lesion is slightly wet. Being under the arm, we had not noticed this until today. We cannot say for sure how long he has had this condition.
Notice the small area adjacent to lesion, with a small area of hair and a scab at base. Appears to be a secretion causing a scab.
Veterinarian Suggestion
Hi Ken,
It's hard for me to say what the lesion under your cat's front leg might be without examining him, but based on your description and picture, something called an
eosinophilic granuloma
is a possibility. Eosinophilic granulomas often develop when a cat has an allergic reaction to something – insect bites, food allergies, and environmental allergens (pollen, mold, etc.) are all possibilities. Most eosinophilic granulomas respond well to treatment with corticosteroids. As long as the allergic reaction is a one-time event, this treatment is often all that is required. If the allergy is an ongoing problem, it will also need to be dealt with to prevent recurrences.
See your veterinarian for a diagnosis of Mr. Beeg's specific condition and appropriate treatment.
Regards,
Jennifer Coates, DVM